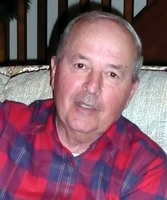 Charles A. Lore
Charles A. Lore, 83, of Newport, NJ, passed away on Monday, February 19, 2018. Born to Joseph and Nellie (Horner) Lore, Charles was raised in Newport. He was married for 63 years to Mary (Hudson) Lore who passed away on April 4, 2016. They raised their family in Newport and later in life moved to Slaughter Beach and Milford, Delaware. After Mary's death, Charles moved back to Newport.
After graduating from Bridgeton High School, Charles was an oysterman for many years on the Delaware Bay on his boat, the Ada C. Lore. After the oyster industry collapsed, he did commercial clamming.
Charles was a master woodworker who loved building things and repairing furniture and antiques. The elaborate model sailing ships, functional bird houses, and the shore birds that he made from many materials were incredible. He loved flea markets and antique shopping with Mary. Charles was a member of the Newport United Methodist Church.
Besides his wife, Charles was also predeceased by his parents and sister, Miriam Jones.
He is survived by a son, Kenneth Lore of Newport; daughter, Susan Lore of Vineland; grandchildren, Jake, Zachary, Lucas Dunn and Joshua, Joseph, and Juliene Lore and a great granddaughter, Jenna Lore. He is also survived by sisters-in-law, brothers-in-law, nephews, and nieces.
A Memorial Service and Interment will be held at a later date. Arrangements are by DeMarco-Luisi Funeral Home 2755 S. Lincoln Ave., Vineland. Memories, thoughts and prayers may be extended to the family by visiting dlfuneral.com.