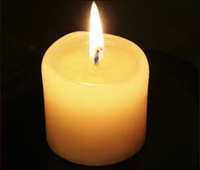 Rochine Leon Ferguson
Rochine Leon Ferguson, affectionately known as Ne-Ne was born on February 25, 1970 to Sandra Hall and reared by his step father, Alexander Hall, Sr. He grew up in Philly and was educated in the public-school system.
As a child, NeNe loved to take appliances apart around the house, just to see how they worked. That's where his love for tinkering came from. There was nothing that he couldn't put back together. Martial art movies were just one of his hobbies (as a child Bruce Lee was his idol). You could often hear him around the house beat boxing with his mouth, from that he became interested in playing the drums, which developed into a skill. He loved to sing songs of praise and worship the lord through his drums. Which he did in many churches throughout South Jersey. Rochine later attended National truck driving school where he obtained his Class A & B Commercial driving license. He later attended Pennco Technical School where he received his degree in refrigeration heating and ventilation. A few years later Rochine received his Master HVACR License in the state of New Jersey.
Although he lived in NJ he was often seen in Philly parked outside Danny's Wok (eating chicken wings with Crystal hot sauce affectionately kept in his glove compartment). He received the lord Jesus Christ as a child and became a committed believer as young adult. The book of revelations was his passion. He was passionate about end time events. NeNe was a devoted student of the word. He was an evangelist in his own rite, concerned about lost souls. You could not be in his presence and not hear about Jesus and the price He paid for our sins.
He leaves to cherish his memory his one and only Wife Tammy; His Children, Darren, Kassandra, Kandice and her Husband Yungo; Granddaughter, Raine Selina; Beloved Mother, Sandra; Step Father, Alexander Hall Sr; Siblings, Roland, Sir Andre, Alexander Hall Jr., Andrea, Cochise and Chafien; Mother-in-law, Linda; Brother-in-law, Art; Aunts, Gilda, Shyrl, Syeeda, Lillian R. and 1 Uncle, Angie and Ernie; God Children, Wayne, Donald, Ashley, Jaylon, TJ, and Lilly bug; a host of nieces, nephews, cousins (whoowee), family and friends.
Gathering of family and friends will be held on Saturday, March 10, 2018 from 9am to 10am with services to follow from 10am to 12pm at the Cornerstone Christian Assembly 422 Corkery Lane, Williamstown, NJ 08094 856-629-9155.