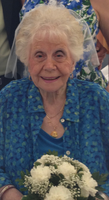 Jennie Massari
Jennie (Moschetti) Massari, 93 of Vineland and formerly of Buena passed away peacefully, surrounded by her loved ones on Wednesday, March 7, 2018 at the New Jersey Veterans Memorial Home, Vineland. She was born in Brookside, CO and moved to Vineland in 1943.
Jennie was a homemaker and in her earlier years, she worked for DeRossi Clothing Co, Vineland.
She enjoyed playing bingo, cooking, baking, going to the casinos and traveling.
She was predeceased by her parents, Biagio and Rosa (DeLauro) Moschetti; 5 brothers, Matthew, Benny, John, Dominick and Jimmy Moschetti and 4 sisters, Minnie Angelucci, Angie Starika, Rosemary Tasnady and Antoinette Kobash.
Jennie is survived by her husband of 71 years, Rosario Massari; son, Alfred Massari; daughter, Barbara and husband Bill Sheldon; daughter-in-law, Carol (O'Hara) Massari; 3 grandchildren, Steven and wife Diane Massari; Kimberly and husband Frank Medio and Scott Massari; 4 great grandchildren, Brett Massari, Joseph Medio, Frank Medio and Sarahlynn Medio; 2 step-grandchildren, Leigh Sheldon and Jody Norman; 4 step-great grandchildren; brothers and sisters-in-law, Ann Moschetti, Anthony and Betty Massari, Mary Suchanoff, William and Rose Massari, Frank and Mary Massari and several nieces and nephews.
Family and friends will be received on Monday, March 12, 2018 from 10am to 11:45am at Christ the Good Shepherd Parish, Sacred Heart Church, 1010 E. Landis Ave., Vineland, followed by a funeral mass at 12pm. Jennie will be laid to rest at Sacred Heart Cemetery, Vineland. Arrangements are by DeMarco-Luisi Funeral Home 2755 S. Lincoln Ave., Vineland. Memories, thoughts and prayers may be extended to the family by visiting dlfuneral.com. In Lieu of flowers, the family requests that a donation be made to the New Jersey Veterans Memorial Home Activities Fund or Alzheimer's New Jersey (alznj.org).