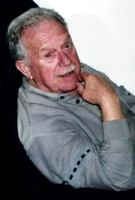 Donald E. Luisi
Donald E. "Don" Luisi, 84, passed away peacefully on Tuesday, March 6, 2018. Donald was born on December 24, 1933 in Vineland. He was the son of the late Eugene and Olive (Keen) Luisi and brother to the late Jay Luisi. Don graduated from Vineland High School, class of 1951, where he excelled in various sports.
He was a lifelong fan of the Yankees. His love of baseball made him a natural when it came to coaching local championship teams. Don was enlisted in the United States Army during the Korean War. In his early years, he worked as a glassblower at Ace Glass. He worked as a bartender at several local establishments, and in his later years worked at Coia's Garden Market. He loved spending his summer vacation in Sea Isle City, NJ with his family.
Don is survived by his 2 daughters, Donna (Luisi) Dutka, wife of Gordon Dutka and Kathi (Luisi) Townsend; 2 granddaughters, Megan Townsend and Rachel Townsend; a niece and nephew, Sherri (Luisi) Caterina, wife of Brian, Mark Luisi husband of Maria; and his faithful friend, Larry Burton.
Funeral services will be held on Tuesday, March 13, 2018 at 12 noon at DeMarco-Luisi Funeral Home, 2755 S. Lincoln Avenue, Vineland. Don will be laid to rest at Sacred Heart Cemetery, Vineland. Family and Friends will be received on Tuesday at the funeral home from 9am to 12noon.