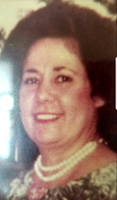 Juana Aponte
Juana Aponte, 81, died on Monday, March 12, 2018 from natural causes while residing at Bishop McCarthy in Vineland, NJ. Juana was born and raised in Havana, Cuba where as a young woman, she was an avid Flamingo dancer and theater performer. She also studied nursing but was not able to continue because she refused to promote Castro's government policies. She instead found employment as a Telegraph Operator before becoming a Cuban exile and fleeing to New York City where she worked as a seamstress for many years. She later joined her sister Ana in Miami, Florida and several years later married and moved to Vineland, NJ with her husband. She then moved to N.C. with her husband to live closer to his two daughters and after nine years, moved back to Vineland where she spent her last 21 years.
Juana is survived by her husband of thirty six years, Victor Aponte of Vineland and 7 step children; Norma Aponte Mendez and her husband Antonio of South Bunnlevel, NC, Nereida Quiñones and her husband Ricardo of Cameron, NC, Victor M. Aponte Jr. and wife Carmen, Carlos I Aponte, José A Aponte and wife Luz all from Vineland, NJ, David Aponte and wife Ruth from Egg Harbor City, and Victor M. Aponte II and wife Ivy from Holyoke, MA and many step grandchildren along with nephews and nieces in Cuba.
A Funeral Liturgy will be celebrated on Thursday, March 22, 2018 at 11am at Divine Mercy Parish, 23 W. Chestnut Ave., Vineland. Juana will be laid to rest at Sacred Heart Cemetery, Vineland. Family and friends will be received on Thursday morning from 9am to 10:30am at the DeMarco-Luisi Funeral Home 2755 S. Lincoln Ave., Vineland. Donations to a charity of your choice or local Catholic Churches would be greatly appreciated. Memories, thoughts and prayers may be extended to the family by visiting dlfuneral.com.