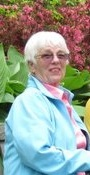 Patricia Mae Wenzel
Patricia T. Wenzel, 82, of Minotola, NJ passed away on Thursday, March 8, 2018. Pat was born, March 4, 1936 in Cape May Court House to the late George and Lillian (Schauer) Taylor.
She was valedictorian of her high school class and earned her Associate's degree at Farleigh Dickinson University. Pat was honored for her 45 years of service to Millville Hospital where she worked as a medical technologist before starting the Nuclear Medicine Department in the 1970's.
Pat enjoyed reading, knitting, traveling by RV, spoiling her animals and baking pies and molasses cookies. She was a devoted member of the United Methodist Church. She also would find time to volunteer for the blood bank and was active in Weight Watchers.
She was predeceased by her parents, George and Lillian; her step-mother, Elizabeth (Endicott) Taylor; brother, Richard D. Taylor as well as her late husband; Kenneth Strickler.
Pat is survived by her husband of 6 years; Edward Wenzel Jr., brother, George Taylor of Lansing, MI; daughter, Pamela (Randy) Kochel of Lancaster, PA; son, Phillip Green of Millville; 6 grandchildren; Christopher and Tyler Kochel, Janice, Charles, Brandon and Brianna Green, as well as 4 great grandchildren.
Family and friends will be received on Sunday, March 25, 2018 from 1pm to 2pm at the Newfield United Methodist Church, 116 Columbia Ave. Newfield, followed by a funeral service at 2pm. Burial will be private. Arrangements are under the direction of the DeMarco-Luisi Funeral Home 2755 S. Lincoln Ave., Vineland. Memories, thoughts and prayers may be extended to the family by visiting dlfuneral.com.