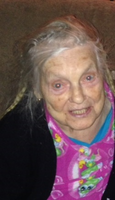 Maria Kletzkow
Maria Kletzkow, 92 of Vineland, passed away on Saturday, March 24, 2018 at Eagleview Health and Rehabilitation Center, Pittsgrove Township.
She was born in Krakow, Poland and was employed by the Vineland Kosher Poultry, Inc. Maria enjoyed being with her family and gardening.
She was predeceased by her daughter, Vera Kletzkow.
Maria is survived by her sons, Walter (Irene) Kletzkow of Vineland and Michael Mercado, Jr of Newfield and 6 grandchildren.
Funeral services will be held on Friday at 11:30am at DeMarco-Luisi Funeral Home 2755 S. Lincoln Ave., Vineland. Maria will be laid to rest at New Kuban Cemetery, Buena Vista Township, NJ. Family and friends will be received on Friday from 10am to 12pm at the funeral home. Memories, thoughts and prayers may be extended to the family by visiting dlfuneral.com.