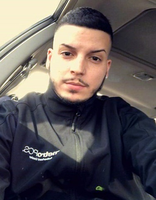 Joseph "Joe" Gonzalez
Joseph "Joe" Gonzalez, 27 of Vineland, passed away on Tuesday, March 27, 2018. Born in Caguas, PR, he was a graduate of Vineland High School, Class of 2010 and served in the New Jersey Air National Guard in the 177th Fighter Wing Security Forces.
Joe enjoyed playing video games, fixing phones, playing volleyball, playing pool and spending quality time with friends and family. He was a devoted father who enjoyed nothing more than being with his sons.
He is survived by his sons, Nathan Joseph Gonzalez and Jonas Joel Gonzalez; his mother, Ivelis Rodriguez of Vineland, NJ; his father and step-mother, Jose and Brenda Gonzalez of San Lorenzo, PR; grandparents, Ramona and Luis Rodriguez of Vineland, NJ, grandparents, Jose and Maria Gonzalez of San Lorenzo, PR; sister and brother-in-law, Jenny and Danny De La Rosa of Cedarville, NJ; brother and sister-in-law, Andres and Sandra Rivera of Austin, TX; brother, Stephen Rodriguez of Vineland, NJ; brothers, Joshua Gonzalez, Kelvin Gonzalez, Steven Gonzalez and Bryan Gonzalez of San Lorenzo, PR; nieces and nephews; Ariana, Araceli, Andres Jr., Giovani and a special cousin, Jose "Juni" Quinones Jr. of Vineland, NJ. He will be sadly missed by his many aunts, uncles, cousins and friends.
Family and friends will be received on Saturday from 9am to 11am at the DeMarco-Luisi Funeral Home 2755 S. Lincoln Ave., Vineland, with an 11am service to follow. Joe will be laid to rest at Sacred Heart Cemetery, Vineland. Memories, thoughts and prayers may be extended to the family by visiting dlfuneral.com.