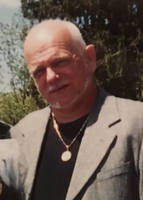 John V. Eby
John V. Eby Jr., 68, went home to be with The Lord on April 9, 2018 following complications from a stroke in June. He was born in Vineland, NJ to John V. Eby Sr. and Anne Eby (Glenn), and spent the majority of his life there. For most of his life he operated a taxi at Vineland Yellow Cab and loved interacting with his customers and co-workers.
He was a very social person and would always be happy to attend any family dinners and events. John was very generous and was willing to go out of his way to help anyone who asked. Later in life, he learned to cook and eagerly shared what he made.
He loved spending time at the Jersey shore with family.
John came to know the Lord Jesus, just a few short years ago and enjoyed attending Chestnut Assembly of God Church and Sacred Heart Church as well.
He is survived by his daughters, Danielle (Sam), Rebecca (Omar) and Bionca; a son, Justin (Rebeca); grandchildren, Alyssa, Christian, Nikki, Jacob, Roman, Elijah, Isabella, Estella and Alex; a brother, Wayne Eby and sister, Joanne McCown as well as many nieces, nephews, friends and his ex-wife, Carmela Orlandini whom he greatly loved.
Family and friends will be received on Friday, April 13, 2018 from 6pm to 8pm at DeMarco-Luisi Funeral Home, 2755 S. Lincoln Ave., Vineland, with a service at 7:30pm. Burial will be private. Memories, thoughts and prayers may be extended to the family by visiting dlfuneral.com.