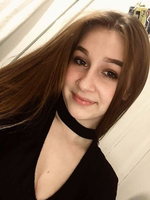 Julianna Lacy
Julianna Alene Lacy, 16, of Vineland passed away on Friday, April 6th, 2018. She was born March 26, 2002.
Julianna will always be remembered for her big heart that had left an impact on every person that came into contact with her. She enjoyed the company of her family and spending time with her young nephews. She was an outgoing, caring, and wonderful girl that will be greatly missed by many, and never forgotten.
She is predeceased by her grandfather, Joesph Kuchinsky.
She is survived by her parents, Johnnie and Tammy Lacy; sisters, Jamie and Leanna Lacy; her paternal grandparents, Lovunia and Carmen DeVito and her maternal grandmother, Helga Kuchinsky. She is also survived by her two nephews, Ethan and Evan Carangi, soon to be niece, her boyfriend, Joel Farmer of Millville, several aunts, uncles, cousins, and friends.
The family would like to extend sincere gratitude for all the acts of kindness and support shown during this difficult time.
Family and friends will be received on Saturday, April 14, 2018 from 9am to 11:30am, followed by a service at 11:30am at DeMarco-Luisi Funeral Home 2755 S. Lincoln Ave., Vineland. Julianna will be laid to rest at St. Mary's Cemetery in Rosenhayn, NJ. Memories, thoughts and prayers may be extended to the family by visiting dlfuneral.com.