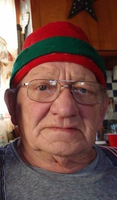 Carl Edward Powell
On April 6, 2018, Carl Edward Powell, 74, of Millville, NJ passed away peacefully at the Inspira Medical Center in Vineland, NJ, surrounded by his family. Carl was born to the late Henry T. Powell and Pearl Elsie Powell, June 30, 1943, at home, in Carnegie, Pennsylvania. Carl is survived by his wife, Sarah Jane Powell (Haywood); his daughter, Dorothy and son-in-law, Michael McFarland; his daughter, Lisa and son-in-law, Tony Shepeski; his daughter, Amy and son-in-law, David T. Parish; his daughter, Jennifer and son-in-law, Kenneth Spigelmyer II; his daughter, Patti McFarland; his grandchildren, Michele McFarland (and Paul), Lisa Kilroy (and Tom), Michael McFarland (and Paige), Rebekah Parish (and William), Sarah Shepeski (and Stephán), David J. Parish, Matthew Shepeski, Michaela Harvey, Carley Parish, Dominick Cappellari, and Kenneth Spigelmyer III; his great-grandchildren Guilianna Ferretti, Logan Ferretti, Sofia Ferretti, Lucy Priestley, Genevieve Dean, and Stephán Dean; his sisters, Dorothy Sweeney, Janet Kelly, and Fran Hines; his sister-in-law, Elaine; and his brother-in-law, Billy.
Carl (affectionately referred to as "Pork" by his close friends and family) moved to Boyers, Pennsylvania when he was a young child where began working on the family farm. In 1966, he came to New Jersey, where he met his wife of 49 years, Sarah Jane.
Carl was a talented and devoted Union Carpenter, and he worked on many large projects that he would later re-live with his children and grandchildren. His favorite and most proud accomplishments included working on the construction of the Delaware Memorial Bridge and the metro system in Washington, D.C., including Union Station. When he returned to New Jersey, Carl began his own business, "Powell Construction", working on building homes in Glassboro, New Jersey. From there, he went to work for Tri County in Bridgeton, eventually retiring. Through all his work, he took the most pride in his finishing Carpentry, and he would always make sure the details of his work were impeccable. The most important job he had ever done, though, was being a father, and all the titles that came with it later. His girls always came first, despite all the chaos and shenanigans.
He had two close friends, Stephen Young and Victor Herbert; they are all causing havoc together again. After his retirement, Carl met his little buddy: his dog, Gator, and he thought the world of him.
Carl was a wonderful husband, father, grandfather, great-grandfather, and friend. He always knew how to light up a room (oil lamp, of course), and he was always the laugh of the party. He was himself until the very end. He taught us a lot about life, and he will continue to live on through all of us. From the girls and the boys, Pork, you will be missed, but never lost.
Family and friends will be received on Saturday afternoon, April 28, 2018, from 2pm to 4pm at the DeMarco-Luisi Funeral Home, 2755 S. Lincoln Ave., Vineland, with a 3:30pm service. Burial will be private. In lieu of flowers, donations in the memory of Carl Edward Powell may be sent to the Railroad Museum of Pennsylvania in Strasburg, Pennsylvania via Friends of the Railroad Museum at rrmuseumpa.org/giving. Memories, thoughts and prayers may be extended to the family by visiting dlfuneral.com.