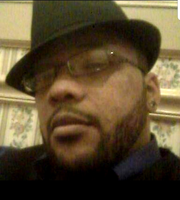 Danny L Hartsfield
Danny Hartsfield 41 of Millville, NJ passed away suddenly, Sunday, October 28, 2018 at Cooper University Hospital in Camden, NJ with family by his side.
Danny leaves to cherish his memory, his wife, "His Forever" Krystal Hartsfield (Maines) and his 7 children, daughters Dazia Hartsfield, Tyla Morgan, Shilynece Arocho (Carlos) and Kiannnah' Hickman and sons Danny Hartsfield Jr., Brenden and Brandon Hartsfield. His parents Mr. and Mrs. Willie Miller, brothers Jamal Hartsfield (Ashley), Harlan Miller (Latoya), Haron Miller (Udana) and William Miller, sisters Rena Miller, Anissa Miller-Lane (Jimmy), Theresa Miller Scarborough (Ricki), Quenda Miller. Other brothers and sisters: the Stephenson family, and also numerous uncles, aunts, nephews, nieces and cousins, brothers-in-law and sisters-in-law.
Danny is predeceased by his father, Mr. Harold Stephenson and his sister, Laquanda Hartsfield. Also survived by his mother-in-law, Darlene King (Paul) and father-in-law, Gilbert Maines, Jr. (Margaret) and his grandmother Elsie O'Rourke.
Danny was employed as a laborer at Joffe Lumber & Supply Co., Inc. in Vineland, NJ for many years until his passing. Danny's favorite football team was the Indianapolis Colts. He enjoyed going to the flea market and Cowtown, loved playing video games and spending time with his wife and kids. His favorite movie was the Fast and Furious and he enjoyed hanging out with his three best friends, Tone, Hector and Angel and loved watching wrestling. Danny will be loved and missed by many.
At his wife, Krystal's request, please try to wear Indianapolis Colts colors (blue and white) and dress casually. In lieu of flowers, please make contributions to the Neurofibromatosis Network in Danny's name @ https://nfnetwork.org/.
Family and friends will be received on Saturday, November 3, 2018 from 10am to 12pm at the DeMarco-Luisi Funeral Home 2755 S. Lincoln Ave., Vineland, NJ 08361. A funeral service will follow from 12pm to 1pm. Cremation will be private.