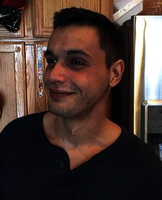 Richard M. Iglesias
Richard Michael Iglesias, Jr., passed away unexpectedly on November 1, 2018 in Bridgeton, NJ at the age of 33. He was born on December 14, 1984 in Rochester, N.Y.
Richard is survived by his father, Richard Iglesias, Sr of Bridgeton, NJ; his mother, Candida Rosa Rodriguez of Oil City, LA; brother, Felix Martinez and wife Destiny of Texas; sister, Janalynn and husband Richard of LA; brother, Alex of LA; sister, Lisa and husband Alfred of FL; sisters, Deanna and Sabrina of Vineland, NJ and brother, Marc Anthony of Vineland, NJ; his paternal grandmother, Teresa Iglesias of Vineland and his maternal grandparents, Martin and Candida Rodriguez of FL., and many aunts, uncles, cousins, nieces and nephews.
He was predeceased by his grandfather, Rafael Iglesias of Vineland.
Funeral services and burial are private. Arrangements are by DeMarco-Luisi Funeral Home 2755 S. Lincoln Ave., Vineland. Condolences may be sent to the family by visiting dlfuneral.com.