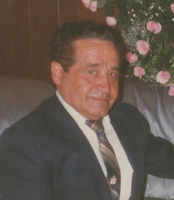 Alcides Padua
Alcides "Al" Sotomayor-Padua, passed away suddenly to be with the Lord on Wednesday, November 7, 2018 at Bishop McCarthy Residential Center. He was born and raised in Adjuntas-Ponce, Puerto Rico and later became a resident of Vineland, NJ for most of his life.
Alcides was a professional magician and hypnotist in the 1970's, who then gave his soul to the Lord and went on to serve as a Christian Pastor in Vineland. He also worked as a brake specialist at Pete Marocco's Garage and Allonardo Brothers, both of Vineland.
Alcides will be sadly missed by his son, Harry Padua (Abigale), grandsons, Abimauel and Joshua and great-grandson, Christian; daughter, Helen Bennett (Donald) and grandson, Angel; daughter,Hazel Pizarro (Robert), granddaughter, Melanie and great grandchildren, Ariana and Adrien; all of NJ, and granddaughter, Jessica and great grandchildren, Tristan and Nicholas; daughter, Lissette Priscilla Gendreau (Patrick) of Florida and grandsons, Jesse, Elijah and Zachariah of NJ, and Jeremiah from Texas, and son, Daniel Padua (Kimberly) and grandpup, Benji of NJ.
Family and friends will be received on Monday, November 12, 2018 from 11am to 12pm followed by a funeral service at 12pm at DeMarco-Luisi Funeral Home 2755 S. Lincoln Ave., Vineland. Alcides will be laid to rest at Siloam Cemetery, Vineland. Memories, thoughts and prayers may be extended to the family by visiting dlfuneral.com.