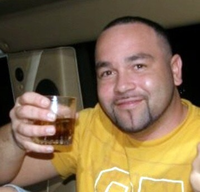 Carlos "Cha-Chi" Rodriguez III
Carlos "Cha-Chi" Rodriguez III passed away unexpectedly on Monday, December 24, 2018 at his home in Vineland, NJ.
Cha-Chi was born in Vineland, NJ to Kathy and Carlos Rodriguez, Jr on July 25, 1981. He went to Vineland High School and graduated in 1997.
Cha-Chi was a big sports fan. He loved the Eagles, the Philadelphia Phillies and horse racing. Cha-Chi also enjoyed being with his family, friends and going on vacation with his mother.
Cha-Chi is survived by his mother, Kathy; father, Carlos Jr. and brother, Michael; grandfather, Carlos Rodriguez Sr.; niece, Brandi; nephew, Michael Jr.; aunts, uncles, and many cousins.
Family and friends will be received on Saturday, December 29, 2018 from 11am to 2pm, with a funeral service at 1:30pm at DeMarco-Luisi Funeral Home, 2755 S. Lincoln Ave., Vineland. Burial will be private. In lieu of flowers, memorial donations may be made to the SJ Regional Animal Shelter, 1244 N. Delsea Dr., Vineland, NJ 08360.