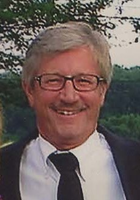 Paul K Gnatz
Paul K. Gnatz, 66, of Vineland, passed away on January 1, 2019, surrounded by his loving family at the Genesis Health Care in Cape May Court House, NJ.
Paul was born in Orange, NJ on September 18,1952. He graduated in 1970 from Raritan High School in Hazlet, NJ and was a longtime resident of Hazlet prior to moving to Vineland in 1987.
Paul worked as a US Postal Worker for the United States Postal Service for 30 years. He enjoyed hunting, fishing and spending time with his family.
Paul is survived by three daughters, Dana, Corinne and Danielle; three grandchildren, Tyler, Alexis, and Brandon; brother, Mark (Sandra) Gnatz; his former wife, Dale Gnatz and many nieces and nephews.
Paul is preceded in death by his father, John Gnatz and his mother, Catherine L. Field.
Family and friends will be received on Sunday, January 6, 2019 from 2:00pm to 4:00pm, with a funeral service at 3:30pm at the DeMarco-Luisi Funeral Home, 2755 South Lincoln Avenue, Vineland, NJ 08360. Burial will be private.