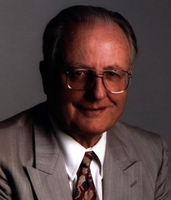 John C. Bauer
John Charles "Jack" Bauer, 87, of Egg Harbor Twp., NJ, passed away on January 5, 2019 in the NJ Veterans Memorial Home of Vineland, NJ.
Funeral services will be held at St. Vincent De Paul Catholic Church located at 5021 Harding Highway (route 40), Mays Landing, NJ 08330 on Friday January 11, 2019. A viewing will take place in the church from 10:00am to 11:00am, followed by a mass at 11:00am. Burial will follow at St. Peter's Cemetery in Springfield, PA. DeMarco-Luisi will be handling funeral arrangements.
Jack was born on January 4, 1932 in Phila., PA to Charles and Anna Bauer. He graduated from Southeast Catholic High in 1950. He worked for MAB Paints for 58 years, eventually working his way up to regional supervisor. He served in the US Army during the Korean War.
Jack was a member of the Philadelphia Veterans Band and marched in the Mummers Parade for over 20 years. He enjoyed spending time with family and friends. He also enjoyed playing the trumpet, walking, spending time at the beach, puttering around with household projects, and traveling adventures such as snorkeling, and cross-country skiing.
Jack is survived by his wife, Pat Delibert of Egg Harbor Twp., his children; Jack (Cecilia) Bauer, Steve (Jean) Bauer, Marian (Soddy) Limmina and his grandchildren; Jack, Nicole, Steve, Julie, Lisa, Branden, and Kelly and 6 great-grandchildren.
He is preceded in death by his parents, Charles and Anna Bauer, his 1st wife, Marian Bauer and his sister, Elizabeth Helker.
In lieu of flowers, memorial donations may be sent to the Old Glory Unit of the NJ Veterans Memorial Home, Vineland, NJ.
The family wishes to extend their gratitude to the staff of Old Glory Unit at the NJ Veterans Memorial Home for their loving and compassionate care, and the staff of Holy Redeemer Hospice Group.