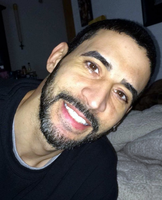 Hiram G. Alicea
Hiram Gabriel "Pepo" Alicea, 37 of Millville, passed away peacefully at home surrounded by his family on Sunday, January 20, 2019.
He was born in Vineland, NJ to Ivonne Alicea. Hiram grew up to be known for his remarkable ingenuity. He was very creative, inventive and able to fix or come up with a clever solution. He was our mechanic, electrician and plumber, our very own MacGyver.
He is predeceased by his wife, Tara Ra Alicea and step-sister, Victoria "Vicky" Martinez.
Pepo is survived by his 3 daughters, Marih Ra, Ariana Gabriella and Nilza Ivonne Alicea; his mother, Ivonne Alicea Saldana and husband Benito Saldana; his step-father, Jose Caraballo; his grandfather, Jose "Pepe" Alicea and his siblings, Luis Jose "Doddy" Rivas, Christina Rosa "Nena" Oslin and Nilza Ivonne "Baby" Martinez; step-sisters, Janice "Tata" Rivera, Jessica Lee Cortez, Erica Santiago and Tracy "Moya" Martinez and an endless list of cousins, aunts and uncles.
Family and friends will be received on Friday from 1pm to 3pm followed by a funeral service at 3pm at the Cumberland Co. Community Church, 1800 E. Broad Street Millville, NJ. Burial will be private. Arrangements are by DeMarco-Luisi Funeral Home 2755 S. Lincoln Ave., Vineland.