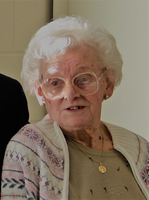 Jean M. Venturi
Jean (Coslop) Venturi, age 102, passed away on Sunday, January 27, 2019 at the Millville Center in Millville, NJ. She lived in Vineland, NJ most of her life.
Jean was predeceased by her husband, Renato "Frank" Venturi; her parents, Benjamin and Josephine (Sterchele) Coslop; her siblings, Benjamin Coslop, Mary DeGroot, Anna Donzola, Violet Chipolla, Louis Coslop, Gloria Coslop and Richard Coslop, and her best friend, Erma Castellini.
She is survived by her dear friend and caregiver, Janice (Castellini) Weir and the extended Castellini family, as well as many nieces and nephews.
Jean will be laid to rest at Sacred Heart Cemetery, Vineland. Services will be private. Arrangements are by DeMarco-Luisi Funeral Home, 2755 S. Lincoln Ave., Vineland.