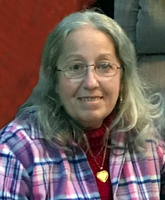 Andrea Whipkey
Andrea (Licari) Whipkey, 59, of Vineland passed away on Wednesday, January, 23, 2019 surrounded by family, ten days after her birthday. She was the daughter of the late Andrew and Anna (Ritondaro) Licari.
She was born in Vineland and moved to Florida with family at a young age. She worked in retail until moving back to South Jersey to raise her son in 1993. Andrea was a devoted mother to her son Dennis "DJ". He was her world. She loved every minute being his mother.
A kind, loving, caring, generous woman who loved her family dearly, she enjoyed helping everyone in any way she could, never hesitating to say yes.
She loved her July 4th vacation week in Sea Isle City. Her vacation home was open to whomever wanted to come and enjoy the shore with her. The more, the merrier. Andrea adored her cat Muffin, who is already lost without her.
She participated every year with the family team in the Heart Walk in Ocean City. She looked forward to walking for loved ones who lost the battle, especially her mother and sister, Susan. She will be deeply missed.
She is predeceased by sister, Susan Cairone, brother-in-laws, William Lee (Pa) Morris Sr., Zane Gray, Joseph Ciccio and Joseph Regalbuto.
She is survived by son, Dennis "DJ" Jonker; sisters, Augusta (Ken) Morris, Joann Gray, Carol Ciccio and Kathryn (Peter) Federici; brothers, Alfred Grasso, John Grasso Jr., and Joseph (Myrna) Licari; aunts, Philomena Pettit and Marie (Chickie) Mihandoust; uncles, Robert Danna and Joseph (Val) Licari. She is also survived by many nieces, nephews and cousins.
Relatives and friends are invited to attend her visitation on Sunday, February 3, 2019 from 2pm to 3pm with a memorial service to follow at 3pm at DeMarco- Luisi Funeral Home, 2755 S. Lincoln Ave., Vineland. In lieu of flowers, those desiring to make memorial contributions, please visit http://www2.heart.org/goto/LovingHeartsForAndrea or mail check payable to the American Heart Association to DeMarco-Luisi Funeral Home, 2755 S. Lincoln Ave., Vineland, NJ 08361, attention: Kathryn Federici.