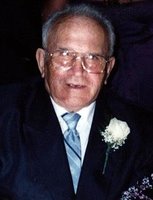 Michael Mosijtschuk
Michael Mosijtschuk, age 91 of Buena, passed away at home on Thursday, February 7, 2019. He was born in Korshiw, Ukraine and immigrated to the United States aboard the Queen Elizabeth in 1957. He became a naturalized citizen in 1968 after settling in Vineland.
Michael was employed by Seabrook Farms and Green Giant in Vineland, where he retired from.
In 1984 he married Mussetta Tharp. He was a previous member of St. Francis of Assisi Church.
Besides his beloved wife, he leaves behind his daughter, Helga Kuchinsky; step-sons, Gary (Bonnie) Tharp and Donald (Marianne) Tharp, Sr., and daughter-in-law, Eileen Tharp; 12 grandchildren, 22 great grandchildren, 3 sisters and 1 brother in the Ukraine.
He was predeceased by his daughter, Sylvia Mosijtschuk; step-son, Barry Tharp, Sr and step-daughter, Patricia Wilson.
Family and friends will be received on Tuesday, February 12, 2019 from 10am to 11am, followed by an 11am Service at DeMarco-Luisi Funeral Home 2755 S. Lincoln Ave., Vineland. Michael will be laid to rest at Siloam Cemetery, Vineland.