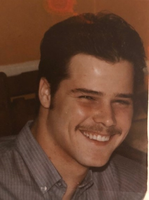 John M. Rosa, Jr.
John M. Rosa Jr., 57 of Vineland, NJ, passed away Sunday, February 24, 2019 while surrounded by his loved ones.
John was born in Vineland to John M Rosa Sr and Blanche Shirley (Hampton) Rosa on October 19, 1961. He attended Vineland High School before joining the United States Navy and after 10 years of service, John had many jobs including owning a home improvement business.
John enjoyed spending time with his family, cooking for his loved ones and working with his hands, as well as his dog, Grazzo.
John is survived by his daughter, Desirea (Rosa) Krogur of Egg Harbor, New Jersey, sisters, Suzanne Robinson, Bernadette Stretch and Jeanette Rodriquez all of Vineland, Gigi Meade of Texas and Susan Gingola of Long Island NY; grandchildren, Gabriel, Avari and Anthony as well as many brothers and sisters-in-law, nieces and nephews.
He is predeceased by his parents and his sister, Michele.
Family and friends will be received on Wednesday evening from 6pm to 8pm at DeMarco-Luisi Funeral Home 2755 S. Lincoln Ave., Vineland. Burial will be private. Memorial donations may be made to the family. Memories, thoughts and prayers may be extended to the family by visiting dlfuneral.com.