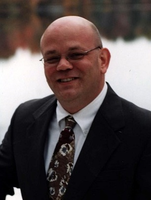 Anthony J. Paladino
Anthony J. Paladino, 50, of Newfield, passed away on February 26, 2019. Born in Toledo, OH, Tony was the son of the late John and Carole (Federico) Paladino. He was a graduate of St. Augustine Preparatory School Class of 1986. Upon graduation, Tony earned a Culinary Arts Degree from Atlantic Community College. He utilized this education to prepare meals in multiple residential educational institutions throughout Pennsylvania. Later in life, Tony attended Rowan University and, in 2005, earned a Bachelor's Degree in Sociology.
In his twenties and thirties, Tony was an avid supporter and spokesperson for the LGBTQ community and even created his own online organization called Antny's Place. Tony's hobbies included spending time with his friends and family members and taking long walks in the park and on the beach.
Tony is survived by a sister, Susan (Paladino) Gramley, brother-in-law, Ed, and two nieces, Emily and Jessica. He is predeceased by his parents.
Family and friends will be received on Thursday evening from 6pm to 8pm with a funeral service at 7:30pm at DeMarco-Luisi Funeral Home 2755 S. Lincoln Ave., Vineland. Burial will be private. In lieu of flowers, memorial donations may be made to the South Jersey Regional Animal Shelter, 1244 N. Delsea Drive Vineland, NJ 08360.