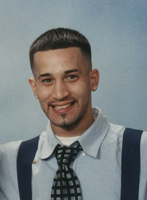 Angel M. Andujar, Jr.
Angel M. Andujar Jr., 38, of Vineland NJ, was called home by our Lord, Sunday March 3, 2019 at Inspira Medical Center surrounded by his loving family. Born and living in Vineland NJ most of his life, he was the son of Helen (Andujar) and Don Bennett, and Angel M. Andujar Sr.
He attended the Vineland school system and graduated from Vineland Senior High School in 1999. He loved spending time with family and friends. Angel enjoyed all sports, and was a die-hard Phillies and Eagles fan. Angel was a career cook, and enjoyed cooking for his family and friends, recently working venues such as the Breeders Cup at Churchill Downs.
Angel is survived by his parents, Helen and Donald Bennett and Angel M. (Brenda) Andujar Sr. (father); step-siblings, Heather, Brandon and Jennifer Morrow; aunts, Hazel (Robert) Pizarro, 'Isaida Andujar, Mercedes (Nelson) Ost-Cotto, Elizabeth Andujar and Carmen (Luis F.) Amberths; uncles, Harry (Abby) Padua, Luis E. (Christian) Reyes, Florida and Leon (Liz) Bennett, Enrique Andujar and Esteban Andujar Jr; paternal grandmother, Carmen Chanza (New York).
He was predeceased by his maternal grandmother; Ana Prieto Ambert, maternal grandfather; Alcides Padua; paternal grandfather, Esteban Andujar.
Family and friends will be received on Sunday evening, March 10, 2019 from 6pm to 8pm and again on Monday morning, March 11, 2019 from 10am to 11am, followed by a funeral service at 11am at DeMarco-Luisi Funeral Home 2755 S. Lincoln Ave., Vineland. Angel will be laid to rest at Sacred Heart Cemetery, Vineland. Memories, thoughts and prayers may be extended to the family by visiting dlfuneral.com.