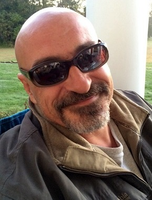 Joseph M. Diorio
Joseph Michael Diorio, 53 of Vineland, NJ passed away on March 7, 2019.
Joe was born in Milan, Italy on November 3, 1965 and adopted in 1967 by Dr. and Mrs. Michael J. Diorio. He graduated from St. Augustine Prep in 1984 and attended Glassboro State College studying music. He began playing drums at age 5 and worked as a professional musician for over 20 years. He later worked as a manager of the framing department at Michael's Arts and Crafts until shortly before his passing.
Joe is predeceased by his father Dr. Michael J. Diorio.
Joe is survived by his mother, Florence (DiIoia) Diorio of Carmel, NJ; brother, Mark Diorio of Vineland; sister, Michelle Conaway (Diorio) and husband William of California; niece, Jennifer Diorio of Williamstown and nephews, Anthony and Matthew of Williamstown.
Family and friends will be received on Saturday, March 16, 2019 from 1pm to 3pm, followed by a Catholic service officiated by Fr. Carmen Carlone at 3pm at DeMarco-Luisi Funeral Home 2755 S. Lincoln Ave., Vineland. Burial will be private. In lieu of flowers, please make donations to The Parish of the Holy Cross, 46 Central Ave. Bridgeton, NJ 08302.