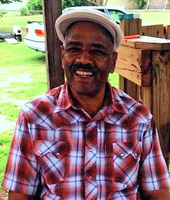 Adam Rodriguez
Adam "Negro" Rodriguez, 67 of Vineland, passed away on Wednesday, March 27, 2019 at home surrounded by his family.
He was born in Carolina, Puerto Rico and moved to the United States at the age of 17 and started working as a farmer. About 3 years later, he began working at Ron-Son Company in Swedesboro, NJ, where he dedicated 47 years of his life.
He is predeceased by his parents, Catalino Rodriguez and Rosa M. Carmona and his wife, Carmen Rodriguez.
Adam is survived by his sister, Jannette Torres and other siblings from Puerto Rico; step-son, Julio Quiñones and many nieces and nephews including, Maria, Edwin and Christian Marquez, Hector Rivera, Bryan Calderon, Carmen Colon and Julia Diaz.
Family and friends will be received on Monday, April 1, 2019 from 9am to 11am at DeMarco-Luisi Funeral Home 2755 S. Lincoln Ave., Vineland, followed by a funeral service at 11am. Adam will be laid to rest at Sacred Heart Cemetery, Vineland.