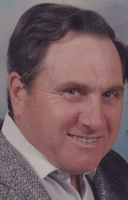 Leo Petrini
Leo Petrini, 88 of Richland, passed away peacefully on Thursday, March 28, 2019. Leo resided his entire life on Llewellyn Avenue in Richland, NJ where he operated his parent's poultry farm at a very young age of 12 after the sudden passing of his father. He expanded the farm to what was one of the largest automated poultry production facilities in New Jersey.
Leo was mechanically inclined and often called upon by relatives and friends to show his abilities. As the poultry business declined he decided to transition into the building and carpentry trade. He used his skills to construct homes with his cousins in Petrini Construction, but he was most proud of the homes he built for his two sons. Leo also had a successful career as a carpenter for Atlantic County. Leo and his wife Lillian also owned and operated Petrini's Farm Market for over 25 years until the passing of his wife in 2003. They both enjoyed working side by side with their grandchildren teaching them excellent working skills.
Leo was an active public servant to his community. He spent many years as a District Warren for the NJ Forest Fire Service. He was a member of the Richland Volunteer Fire Company for over 50 years where he served in various positions including Asst. Chief. Leo was a member of Buena Vista Township Firemen's Relief Association, a charter member of Milmay Hunting Club, St. Joseph's Society and the Buena Vista Exchange Club.
Leo and his wife enjoyed many years traveling with their RV and camping. Most recently they enjoyed spending time at their Ocean City home. He especially enjoyed spending time with his children and grandchildren which he adored.
Leo is predeceased by his wife, Lillian of 52 years.
He is survived by his sons, Louis Sr. and wife Janet and Edward Sr. and Joanne; daughter, JoAnn Petrini Sorrentino; grandchildren, Louis Petrini, Jr., (Sheri), Shelli Mosley (Christopher), Jeffrey Petrini (Kristina), Christina Petrini, Edward Petrini, Jr. (Elizabeth), Jennifer De Palma (Michael), Maria Hansen (Justin) and Robert Sorrentino, Jr. (Sara) in addition to 16 great grandchildren. Leo is also survived by sisters, Anita Alimenti, Rose Lolli and Maria Bucci; sister-in-law, Lucy Miller and many nieces and nephews.
Family and friends will be received on Tuesday, April 2, 2019 from 9am to 10:45am, followed by a Funeral Liturgy at 11am at Padre Pio Parish, Our Lady of Pompeii Church, 4680 Dante Ave., Vineland. Leo will be laid to rest at St. Mary's Cemetery, East Vineland, NJ. In lieu of flowers, donations may be made to the Richland Volunteer Fire Co., P.O. Box 356, Richland, NJ 08350 or Buena Regional Education Foundation, P.O. Box 342, Buena, NJ 08310. Arrangements are by DeMarco-Luisi Funeral Home 2755 S. Lincoln Ave., Vineland. Memories, thoughts and prayers may be extended to the family by visiting dlfuneral.com.