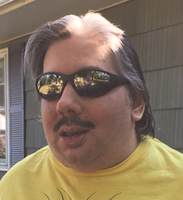 Alexander Wydra
It is with great sadness that the family of Alexander Wydra announces his unexpected passing after a brief struggle with illness, on Wednesday, March 27, 2019, at the age of 44.
Alex was a beautiful person with a heart of gold. His kind and caring nature always put the needs of others before himself. His kindness extended to all animals, but he was extremely fond of dogs; especially his dachshund, Jackson. He had a far-reaching love of music which carried him through every day of his life. One of his greatest memories was when he attended a Tom Petty concert. Alex also had a love of food, primarily pasta dishes. He appreciated eating out with family and friends, as well as a home-cooked meal. Alex always looked forward to the holidays throughout the year. He loved decorating the tree at Christmas and dressing up at Halloween. Additionally, he enjoyed shopping, particularly at flea markets.
Alex will always be remembered by his mother, Tania Cassidy; his step-father of forty-one years, Dan R. Cassidy; his brother, Dan R. Cassidy Jr.; his cousin, Joseph Ptak and wife Debbie along with their two children; his cousin, John Ptak; plus additional aunts, an uncle and cousins.
Family and friends will be received on Wednesday, April 3, 2019, from 6pm to 8pm, with a short memorial service at 7:30 pm, at DeMarco-Luisi Funeral Home, 2755 S. Lincoln Ave., Vineland, NJ 08361. Memories, thoughts and prayers may be extended to the family by visiting dlfuneral.com.