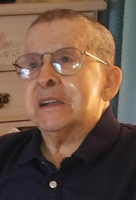 Roberto Camacho
Roberto Camacho, 89 of Vineland, passed away on Monday, April 1, 2019 at Lincoln Specialty Care Center, Vineland. Born in Adjuntas, Puerto Rico, Roberto resided in Vineland for the past 33 years.
He was a chef at Johnny's Restaurant in Manhattan, New York for 28 years before moving to Vineland. He was a member of Divine Mercy Parish, Vineland.
He is predeceased by 4 brothers, Ramon, Felix, Francisco and Luis Camacho.
Roberto is survived by his wife of 63 years, Carmen Iris (Torres) Camacho of Vineland; 2 sons, Roberto Camacho, Jr and Reynaldo Camacho both of New York; 5 grandchildren, 4 great grandchildren; 2 sisters, Carmen Camacho of PR and Dominga Ramos of NY and many nieces and nephews.
Family and friends will be received on Monday, April 8, 2019 from 9am to 11am, followed by a funeral service at 11am at DeMarco-Luisi Funeral Home 2755 S. Lincoln Ave., Vineland. Roberto will be laid to rest at Sacred Heart Cemetery, Vineland. Memories, thoughts and prayers may be extended to the family by visiting dlfuneral.com.