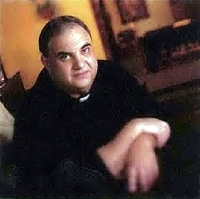 Father Gary R Hayes
Father Gary R. Hayes, 66, of Millville, passed away peacefully on Thursday, April 4th surrounded by his loving family.
Gary was a graduate of Sacred Heart High School, class of 1970. After high school, Gary attended St. Bernard's Seminary school in Rochester, NY where he obtained his Master's Degree in Theology. Gary was ordained a priest in 1990 and served the Diocese of Owensboro, KY for many years.
In his spare time, Gary loved cooking, reading, Survivor, game shows, traveling and spending time with his family and friends as well as working within numerous church groups. Gary is also a life long member of the Knights of Columbus.
Gary was pre-deceased by his father, Rutherford B. Hayes and his mother, Alfia M. Hayes. He is survived by his brother; Russell (Kathleen), brother; Bruce (Toni), brother; Robert, sister; Patricia (Paul) and brother; Richard (Dee), his Aunt; Josephine Lolli as well as many beloved nieces, nephews and cousins.
Family and friends will be received on Wednesday, April 10, 2019, from 6pm to 8pm, with a service at 7:30 pm, at the DeMarco-Luisi Funeral Home, 2755 S. Lincoln Ave., Vineland, NJ 08361. In lieu of flowers the family requests that you please make donations in Gary's memory to the SNAP Network, PO Box 56539, St. Louis MO 63156 or by visiting www.SNAPNetwork.org