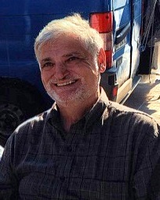 Giuseppe "Joseph" Ucciferri
Giuseppe "Joseph" Ucciferri, 62 years old, peacefully passed away on Thursday, April 18, 2019 surrounded by his family and friends. Joseph was born in Isernia, Molise, Italy to parents, Antonino and Gemma Ucciferri.
Joseph attended Instituto Tecnico Statale Commerciale e per Geometri and graduated with a Diploma Di Geometra in 1975. He later studied and graduated at Cumberland County College with an Associate's degree, where he was also awarded a certificate in Mathematics.
Joseph was employed by the city of Vineland's Engineering Department, and served as the city surveyor for the past 27 years. He was an active member of the New Jersey Society of Professional Land Surveyors, and also served on their board of trustees. Joseph was also a passionate member of Vineland's Founder's Day Festival, where he portrayed Marcus Frey, the first land surveyor of Vineland. He enjoyed educating people about the history of land surveying.
He survived by his wife, Grace (DeLauro) Ucciferri with whom he shared a loving marriage of 32 years. Joseph is also survived by his brothers; Michele and sister-in-law Lina, (Isernia, Italy), Marco and sister-in-law Kathy, as well as his sister, Annamaria and brother-in-law David; nieces and nephews; Dr. Claudio Ucciferri, Nadia Ucciferri, Nicole Giraffo, Four Nichols, Samantha Giraffo, Sophia Ucciferri and Matteo Ucciferri. He is also cherished by his aunt, Adelina DiPerna, and family of Vineland.
Relatives and friends will be received on Monday, April 22, 2019 from 6pm to 8pm at the DeMarco-Luisi Funeral Home, 2755 S. Lincoln Ave., Vineland, NJ. Church visitation will be held on Tuesday, April 23, 2019 from 9:30am to 10:45am followed by a Funeral Mass at 11am at Our Lady of the Blessed Sacrament Parish, St. Michael's Church, 504 South West Ave., Minotola, NJ. Joseph will be entombed at Sacred Heart Cemetery in Vineland, NJ. In lieu of flowers, please send donations to: Edgarton Christian Academy, P.O. Box 646 Newfield, NJ 08344 for a future scholarship in Engineering and Surveying in Memory of Joseph Ucciferri, or St. Padre Pio Shrine, Landisville, NJ.