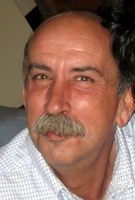 George A. Fernandez-Vina
On April 20, 2019, George A. Fernandez-Vina passed away at Inspira Medical Center, Elmer.
George enjoyed spending time with family and friends. His hobbies included flying model airplanes and boating.
He is lovingly survived by his wife, Diane Fernandez-Vina; his brother, the Honorable Faustino J. "Fuzzy" Fernandez-Vina; and his daughter, Elizabeth.
Relatives and friends are invited to his viewing on Wednesday, April 24, 2019 from 6pm to 8pm, with a prayer service at 7:30pm at DeMarco-Luisi Funeral Home, 2755 S. Lincoln Avenue, Vineland, NJ. Interment will be private. Memories, thoughts and prayers may be extended to the family by visiting dlfuneral.com.