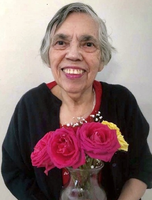 Benicia Collazo
Our mom, Benicia Sotomayor Collazo, went home to be with the Lord on Thursday, April 18, 2019, in Vineland NJ. She was born April 3, 1932, in Utuado, PR. She was a graduate of Glassboro High School and after raising 8 children, she went to nursing school and graduated as a valedictorian LPN. She completed her nursing career at Vineland Developmental Center.
Mom was married to Isidoro Lolo "Chico" Collazo for many years. Benicia's love for God was displayed throughout her house, through writings, phone calls, and witnessing to everyone she crossed paths with.
She enjoyed spending time with her family and hearing her children sing.
She is survived by her 6 children, Maria Collazo, Liza Rivera (Robert), Rose Gibson, Lillian Seltzer (Joe), Diane Dixon (Ricky), and Lolo Antonio "Lolito" Collazo; her sister, Carmen Pape (Bruce); 13 grandchildren, 20 great grandchildren and a niece and nephew.
She was preceded in death by two children, Judy Collazo and Nancy Berrios (William), her husband, and her mother, Antonia DeJesus.
A celebratory homecoming service will be held Wednesday, April 24, 2019 at the Chestnut Assembly of God, 2554 E. Chestnut Ave, Vineland from 9am to 11am, followed by the home going service from 11am to 12pm. Benicia will be laid to rest at Siloam Cemetery in Vineland. Repass will be at Chestnut Assembly of God following burial. All family and friends are welcome. In Lieu of flowers, donations can be made to New Life World Outreach, 201 Blue Bird Lane. Millville, NJ 08332. Arrangements are by DeMarco-Luisi Funeral Home 2755 S. Lincoln Ave., Vineland.