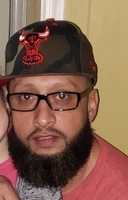 Victor R. Rodriguez Jr.
OBITUARY NOTICE
Victor R. Rodriguez Jr., 44, passed away on Saturday, April 13, 2019 in Millville, New Jersey. He was born on January 25, 1975 in Vineland, New Jersey to his mother Concepcion Marrero and father Victor Rodriguez Sr.
He grew up facing the adversity of poverty, and in his adolescence made turns that led him astray. But as he grew up, he faced his mistakes. These mistakes and solutions made him a better and stronger man. He vehemently tried instilling the values of growth to his children and how there always is a possibility of getting better.
He loved fishing, carpentry, woodworking, and riding his motorcycle. He was a handyman and a problem solver. He spent his days creating beautiful furniture in the shed he built himself, or sitting in his recliner watching movies. He loved getting on his boat and sitting on the water for hours, or taking long rides with friends and family on his motorcycles. He had a good heart and was always full of love. He touched the heart of every single person he ever encountered and was a beacon of light and protection in everyone's life. He never stopped trying to get a laugh from somebody, no matter the situation.
He is survived by his wife, Jennifer Rodriguez; step-father, Fredis Rivera; sister, Christina Rivera; brother, Juan "John-Jon" Rodriguez; children, Kayla Rodriguez, Joseph Dittus, Deric Rodriguez, Nick Rodriguez, Victor Rodriguez III, Jasmine Garcia, Jeremy Rodriguez, Christopher Rodriguez and Aiden Rodriguez; son-in-law, Albert Fogg; his granddaughters, Gianna Rodriguez and Alana Rodriguez, and many other nephews, nieces, cousins, and best friends.
He was preceded by his father, Victor Rodriguez Sr.; mother, Concepcion "Connie" Marrero; uncle, Jorge "Louie" Marrero and brothers, Fredis "Smokey" Rivera and Luis "Wito" Marrero.
"Vic, we love you, good night, and God Bless you."
Friends and family will be received on Friday, April 26, 2019 from 6pm to 8pm and again on Saturday, April 27, 2019 from 9am to 10am, followed by a funeral service at 10am at DeMarco-Luisi Funeral Home 2755 S. Lincoln Ave., Vineland. Victor will be laid to rest at Siloam Cemetery, Vineland.