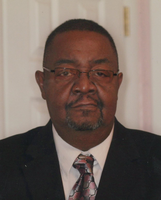 James W. Alexander
James Walker Alexander, II
"There is a time for everything, and a season for every activity under the heavens" – Ecclesiastes 3:1
Jim was born on September 20, 1949 to James W. Alexander and Hazel Smith Alexander in Philadelphia, PA. Jim graduated from Vineland High School in 1968 and after he graduated, he volunteered to serve in the Marine Corps where he served honorably in the Vietnam War. Following his service in the Marines, Jim served in the Army National Guard for over 20 years.
"A time to love" - Ecclesiastes 3:8
Jim married Diane Elizabeth Jackson on September 7, 1974 and subsequently had three children. Jim and Diane resided in Newfield, NJ until his passing on April 28, 2019.
Jim loved baking and cooking creative dishes, including making the best carrot cake and preserves/jellies. He loved to share his delicacies with family and friends. He also loved to make desserts for the Care Group that met at their home on a weekly basis. Jim's hobbies included landscaping, fishing, and traveling. Jim was also a member of the Elks Lodge.
Jim is survived by his faithful wife of over 44 years, Diane. Jim is also survived by his three children: Melanie D. Loatman (and son-in-law, Jay), James W. Alexander, III (and daughter-in-law, Mhylene), and David I. Alexander (and daughter-in-law, Fay); his seven grandchildren: Ian, Jade, Miriah, Camryn, Xaver, Alexa, and James IV; his four great-grandchildren, Nevaeh, Matt Jr., Dash, and Avalee; his great-aunt Bea Bell of California; his cousins that love him dearly; four brothers-in-law and their spouses; four sisters-in-law and their spouses; and a host of nephews, nieces, cousins, and friends.
Family and friends will be received on Monday, May 6, 2019 from 10am to 12pm with a funeral service to follow at 12pm at DeMarco-Luisi Funeral Home 2755 S. Lincoln Ave., Vineland. The reception will occur after the service at Chestnut Assembly of God Church, 2554 E. Chestnut Avenue, Vineland, NJ.