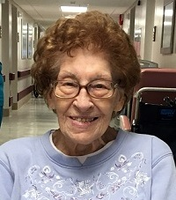 Edith Frandino
Edith Frandino, 90 passed away on Tuesday, June 11, 2019 in Vineland, NJ. Edith was born on September 8, 1928. She lived most of her life in Vineland, NJ.
She married Joseph Frandino and had 3 children, Joseph Frandino, Jr, Sallie (Frank) Loretta and John (Margie) Frandino; 6 grandchildren, 9 great grandchildren, 1 great-great grandchild. She is also survived by 2 brothers and many nieces and nephews.
She was predeceased by her husband, Joseph; 3 sisters and 2 brothers.
Edith loved gardening, cooking and going to the casinos. But most of all, she loved spending time with her grandchildren.
She will be remembered for her kind, compassionate heart and devotion to her family.
Family and friends will be received on Saturday, June 15, 2019 from 9am to 10:30am followed by a funeral service at 10:30am at DeMarco-Luisi Funeral Home 2755 S. Lincoln Ave., Vineland. Edith will be laid to rest at Siloam Cemetery, Vineland.