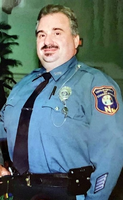 James Nichols
James Nichols III, 59 of Millville, NJ passed away in his home on June 20, 2019. James was born in Bridgeton, NJ to parents, Ann and James Nichols Jr on August 20, 1959.
James is survived by his wife of 39 years, Shari; children, Devon and James Nichols IV; parents, Ann and James Nichols Jr; sister, Robyn; several nieces and nephews and grandchildren, Ryker and Rya.
Family and friends will be received on Thursday, June 27, 2019 from 6pm to 8pm, followed by a funeral service at 8pm with Pastor Tony Wilson officiating of Christ Community Church at DeMarco-Luisi Funeral Home 2755 S. Lincoln Ave., Vineland. Burial will be private. In lieu of flowers, memorial donations may be made to the National League of POW MIA Families, 5673 Columbia Pike Suite 100, Falls Church, Va 22041.