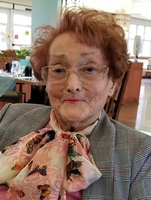 Ulsina Pereira
Ulsina (Arroyo) Pereira, 91 passed away on Monday, June 24, 2019 at Inspira Medical Center in Vineland, NJ surrounded by her family and forever friends. She is predeceased by her husband Guillermo Pereira, one brother and one sister.
She is survived by her daughter, Carmen Oldknow (Chuck); 2 grandchildren, Jacqueline Ramirez (Christian) and Vladamir Rivera; 5 great grandchildren, Jailene, Julian, Julissa Rivera, Jonathan and Rosailly Ramirez; nieces and nephews; and her goddaughter, Doris Torres (Hector).
Born in Juncos, Puerto Rico, July 31st of 1927, she moved to the mainland United States with her husband in 1951. She lived in Norma, NJ for approximately 7 years and worked at the Peerless Pearl Company. They later moved to Vineland where her husband established his barbershop on Grape St., becoming Vineland's 1st Puerto Rican barber. In the Hispanic community, they were seen as "pioneers" and so the barbershop became not just a place for a haircut and a nice cup of coffee while they waited, but where Ulsina was always the unofficial social worker helping someone with advice of where to go or what to do. Ulsina was a strong sweet woman and wonderful partner and caregiver to her husband Guillermo who had Alzheimer's in his final years. She was a loving mother, grandmother, and great-grandmother, which earned her the title of "Mother of the Year" by the Puerto Rican Festival of NJ Inc. in 2013. Ulsina loved her make-up and jewelry, talking with friends, singing old Spanish love songs, reading in her later years, and playing a competitive game of "Brisca" (a Spanish card game).
With increasing health concerns in her later years, after receiving excellent services by her Loving Care home health aides, she agreed it was time for 24/7 care. She was a resident for a short time at Eagleview Nursing Home, before she went to her "casa" at the NJ Veteran's Memorial Home. The staff at both facilities fell in love with Ulsina, who she constantly complimented, sang to, and just loved them. The family wants to thank them all, doctors, nurses, and staff. She especially loved Margie and Shane at Eagleview and Edwin, Alex, Merle, Kim, Roberta, Oscar, José, Linda, María, Tom and Cassandra at VA Home, among many others who gave her loving attention and care. Thank you forever friends Carmen Rodriguez, Lucy Montañez, Juanito, Clara and Luis Cruz, Ramon and Ramonita Reyes for always being there for her throughout the years, as well as Doris her goddaughter, whom she loved dearly, and Cathy and Roger Gates. Cathy was like her other daughter and a great support for the family. Finally, a big thank you to the doctors, nurses and staff of the Medical ICU unit of Inspira, and hospice services by Holy Redeemer, who were caring, compassionate, and took excellent care of Ulsina.
Family and friends will be received on Thursday evening from 6pm to 8pm and again on Friday morning from 9am to 10am, followed by a funeral service at 10am at the DeMarco-Luisi Funeral Home, 2755 S. Lincoln Ave. Vineland. Ulsina will be laid to rest at Siloam Cemetery, Vineland. Memories, thoughts and prayers may be extended to the family by visiting dlfuneral.com.