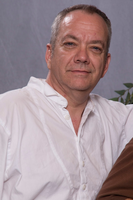 Russell E. Sterger
Russell Everett Sterger was born on June 21, 1956, in Riverside, CA, and grew up in Rialto, CA, where he graduated from Eisenhower High School in 1974. Russell died at his home on June 25, 2019, following a long illness. He was 63.
Russell is a veteran of the US Air Force, where he served as an air traffic controller. After living a wild and worldly life, and after much prayer by his family, he became a Christian. He was Born Again on Easter of 1995. That's when his life began to turn around in a good and radical way. He chose to follow a new path and dedicated his life to the ministry and service to his Lord, Jesus Christ. He earned an associate's degree in Bible from Calvary Chapel Bible College at Twin Peaks, CA, and a Master's degree in theology from Trinity Biblical University, in 2008.
Russ loved adventure and travel, and often introduced his closest friends to both. Rarely would one of his journeys end without an unexpected twist. He loved to sing and to act. He enjoyed a short stint in Hollywood, appearing in big-hit shows like "Night Court" and "Twin Peaks." He also appeared as an extra in the 1987 movie, "Baby Boom," with Diane Keaton. One of his pet peeves in life was that, a kid by the name of Tom Hanks once beat him out of a part that he really wanted. He was fully engaged in stage acting, where he appeared in various stage roles during his acting career.
Russ was a key component to Calvary Chapel Vineland's theatrical choir. Russ pretty much wrote, co-wrote, directed, sang and acted in most, if not all, of the team's annual dramas and performances. One of his great joys was to use his performing skills for the glory of Christ and to help others achieve a higher level of acting while presenting the Gospel in fresh and creative ways.
Russell is predeceased by his mother, Wanda (Myers) Sterger. He is survived by his father, Edward Sterger; his brother, Bryon Sterger (Maria); his sister, Connie Matty (Bill); nieces, Alena Sterger-Foust, Jennifer Sterger-Whiteside and nephews, Jeff Matty and Kevin Matty.
Family and friends will be received at Calvary Chapel, 4630 Mays Landing Rd in Vineland, NJ 08361on Monday, July 1, 2019 from 5pm to 7pm, with a funeral service beginning promptly at 7pm. There will be a private interment service for his family. In lieu of flowers, donations may be made to Calvary Chapel. Arrangements are by DeMarco-Luisi Funeral Home 2755 S. Lincoln Ave., Vineland. Memories, thoughts and prayers may be extended to the family by visiting dlfuneral.com.