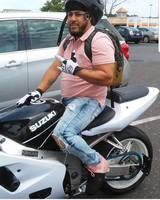 Anthony Hernandez
Anthony Hernandez of Vineland passed away unexpectedly on Friday, June 28, 2019 at Cooper Hospital in Camden, NJ. He was born on April 26, 1987 in Vineland, NJ.
Anthony was liked by everyone who came in contact with him. He was a jokester as well as a family oriented man. Anthony spent many days hanging out with friends and loved ones. He was a wonderful father to his daughter Alexi. He was known for his smile and at any given time he always had a smile on his face.
Anthony is survived by his mother, Ana Quintana; daughter, Alexi Hernandez; sisters, Annyamin and Annjerry, as well as his grandmom, Ednia and nephew, Rafael. Anthony is also survived by many cousins, aunts, uncles, nephews, and loving friends.
Family and friends will be received on Friday, July 5, 2019 from 6pm to 8pm, with funeral services at 7:30pm at DeMarco-Luisi Funeral Home, 2755 S. Lincoln Ave., Vineland. Burial will be private. Memories, thoughts and prayers may be extended to the family by visiting dlfuneral.com.