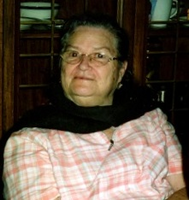 Julia Santos Mendez
Julia Santos Méndez of Vineland, passed away peacefully on Friday, August 2, 2019 surrounded by her loved ones at the age of 88.
Julia was the seventh child born to Francisco Santos and Ramona Mendez on July 3, 1931 in Cidra, Puerto Rico. Julia married the love of her life, Rufino "Ángel" Vicente, a Korean War veteran, on January 31, 1956.
Julia always gave unconditional love to everyone. She enjoyed family gatherings, cooking and bird feeding.
She is survived by her children, Jose "Tony" Vicente, Damaris "Mari" Santiago, Maria "Tata" Vicente, Reinaldo "Ray" Vicente, Javier "Pete" Vicente, William "Willie" Vicente and Miguel "Mike" Vicente; two son-in-laws, Francisco Flores and Agapito Santiago; three daughter-in-laws, Myrna Vicente, Wanda Vicente and Ana Vicente; sixteen grandchildren and thirteen great-grandchildren.
In addition to her husband Rufino, she was predeceased by her son, Angel "Cano" Vicente.
Family and friends will be received on Wednesday evening from 6pm to 8pm with a funeral service at 7pm at DeMarco-Luisi Funeral Home 2755 S. Lincoln Ave., Vineland. Julia will be laid to rest at Brig. General William C Doyle Veterans Cemetery, North Hanover Twp, NJ. Memories, thoughts and prayers may be extended to the family by visiting dlfuneral.com.