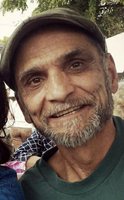 Eusebio "John" Trevino
Eusebio "John" Trevino, Jr. passed away peacefully on August 11, 2019, in New Orleans, LA, at the age of 71, surrounded by his immediate family.
John was born on December 24, 1947, in San Antonio, TX. As an infant, his family moved to Vineland, NJ, where he would spend most of his life. He graduated from Vineland High School in 1966 and worked as a sprinkler fitter for almost 30 years, where he was a proud member of the Local 669 Road Sprinkler Fitters Union.
A fan of the outdoors, John enjoyed fishing in the Delaware Bay with his friends and was an active member of the Hickory Gun Club, which he joined when he was a teenager.
He was a diehard fan of Philadelphia sports teams, especially the Phillies and the Eagles. He often said he could die a happy man if he could see the Eagles win the Super Bowl; a wish which was finally granted in 2018. He was especially happy because they beat the New England Patriots.
John enjoyed watching cowboy movies, a tradition he shared with his grandfather, father, and daughter, Katie. He was also an accomplished chef, specializing in BBQ, Mexican, and Spanish cuisine. He enjoyed cooking for people and would often have large gatherings where friends and family could enjoy his food.
His favorite pastime activities included working with stained glass, gardening, and walking his dog. He also loved music, and was particularly fond of the many concerts and festivals in New Orleans where he moved to join his daughter, Kelly. In his later years, he became a voracious reader who was always looking for the next book to read.
His wit and kindness will be missed by all who knew him.
The family would also like to express their sincere thanks to the nurses at Ochsner Medical Center, as well as Passages Hospice & Sanctuary, who helped comfort him in his final days.
John is survived by his daughters, Katie Trevino of New Orleans, LA; Kelly Trevino and fiancé David Hand, of New Orleans, LA; sisters, Lillie Taylor and husband Bill, of Vero Beach, FL; and Irene Trevino and husband Bill, of Vineland, NJ; niece, Chelsea Newhouse of Baltimore, MD; nephew, Zachary Nichols of Vineland, NJ; ex-wife and close friend, Jerri Trevino of Millville, NJ; and his dog, Killer, of New Orleans, LA.
He is preceded in death by his parents, Eusebio and Loretta (Garcia) Trevino and his beloved dog, Daphne.
Family and friends will be received on Saturday, August 31, 2019 from 9:30am to 11am, followed by a funeral service at 11am at DeMarco-Luisi Funeral Home 2755 S. Lincoln Ave., Vineland. Burial will be private. In lieu of flowers, the family requests that those wishing to celebrate the life of John Trevino do so with a donation to the SJ Regional Animal Shelter, the Cancer Research Institute, or the Refugee and Immigrant Center for Education and Legal Services (RAICES). Memories, thoughts and prayers may be extended to the family by visiting dlfuneral.com.