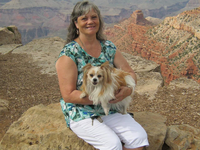 Karen Andruszka
On Friday August 9, 2019, Karen Ruth (Kouhoupt) Andruszka, loving wife and mother of 2 children passed away suddenly at Inspira Medical Center in Vineland NJ surrounded by family.
Karen was born September 30, 1955 in Vineland NJ to Lynn and Mary Anna Kouhoupt. She graduated Vineland High School in 1974 and went on to marry Michael G Parsons. She went on to raise 2 children, Michelle R. Parsons and Michael J. Parsons.
Karen was known for her love of horses, flowers, the beach and her family. She enjoyed painting, camping, and had a very creative spirit to be able to make or build things. She mostly loved to spend time with her children and grandchildren baking cookies.
She is predeceased by her mother, Mary Anna; father, Lynn Kouhoupt; sister, Vicki Basile and ex-husband, Michael G Parsons.
She is survived by her husband, John Andruszka; brother, John Kouhoupt; sister, Julie Howard; many loving nieces and nephews; daughter, Michelle R. Parsons; son, Michael J. Parsons; grandchildren, Tyler, Ryan, Mitchell, JJ, Tobias, Aiden and Evangeline, and her beloved pet, Rascal.
Family and friends will be received on Friday, August 23, 2019 from 6pm to 8pm with funeral services at 7:30pm at DeMarco-Luisi Funeral Home, 2755 S. Lincoln Ave., Vineland. A repass to follow at Cumberland County Christian Church from 8pm to 9pm.