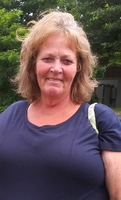 Elizabeth A Hyson
Elizabeth "Beth Ann" (Elizabeth Gentry) Hyson, of Millville, NJ was born on March 12, 1962 in Millville, NJ and passed away at the age of 57 on September 1, 2019 in Vineland, NJ.
Elizabeth was the beloved partner of Russell Hyson, Sr and was preceded in death by her father, Sewell Gentry; mother, Gladys Gentry and sister, Susan L.
She enjoyed walking, shopping and spending time with family. She had a huge heart and loved to bring the best out of people. Elizabeth made a huge difference in the world and had a hilarious and loving attitude and great leadership qualities.
Elizabeth will truly never be forgotten!
Elizabeth is survived by her sons, Russell Hyson, Shaun Gentry and Matthew Gentry; daughter, Margaret Demore; daughter, Tiffany Reiser, daughter, Abby Rodriguez; sister, Sandy W.; grandchild, Leanna Hyson, grandchild, Chase Hyson, grandchild, Liam Shaud-Gentry and unborn grandchild; nieces, Casandra P and Stacy W; nephews, Billy W and Jonny P.
Family and friends will be received on Saturday, September 7, 2019 from 2pm to 4pm with a funeral service at 3:30pm at DeMarco-Luisi Funeral Home, 2755 S. Lincoln Ave., Vineland. Burial will be private.