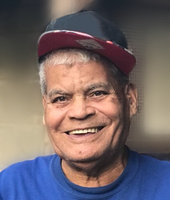 Octavio Rosa
On March 29, 2021 Octavio "Tallin" Rosa went to be with the Lord. Octavio was born and raised in San Sebastián, Puerto Rico, and has been a resident of Vineland, NJ for over 50 years where he met his wife, Aida Rosa. While in Vineland, Octavio worked for Progresso for 28 years.
Octavio had a passion for the outdoors. He loved his backyard and would spend his days taking care of his animals, doing yard work, and growing his fresh vegetables. He loved to wake up early to play his guitar and sing a tune. If he wasn't farming or making music, he was spending time with his family and had a smile that was contagious. Octavio also loved taking road trips and traveling with his family.
He is predeceased by his parents, Benito and Jovita Rosa; 8 siblings, Femio Rosa, Estefania Rosa, Marcial Rosa, Epifania Jimenez, Anna Torres, Robert Rosa, Ruben Rosa and Felipe Rosa.
He is survived by his wife of 43 years, Aida Rosa; 4 sons, Miguel Rosa, Jose Rosa, Victor Rosa and Orlando Rosa; 5 daughters, Norma Rosa, Evelyn Rosa, Evelyn Malavé, Aida Lopez and Madelyn Frazier-Rosa; 17 grandchildren, 10 great grandchildren; 5 sisters, Valeriana Rodriguez, Blanca Rivera, Brunilda Maestre, Margarita Rosa and Maria Rosa, 3 brothers, Antonio Rosa, Fernando Rosa and Jose Alfredo Rosa, as well as a magnitude of nieces, nephews, and great nieces and nephews.
Family and friends will be received on Friday, April 2, 2021 from 10am to 11:30am, followed by a funeral service at 11:30am at DeMarco-Luisi Funeral Home 2755 S. Lincoln Ave., Vineland. Burial will follow in Siloam Cemetery, Vineland.