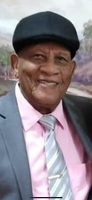 Pablo M. Brea-Guanse
Pablo M. Brea passed in peace this past Resurrection Sunday, April 4th, 2021 at the age of 81 due to complications derived from COVID-19.
He was the loving husband of Blasin. The best and most understanding father of Arelis, Samuel, Pablo, Eduardo, Aida, Yhelkis, Edgar, and Glenni. Proud grandfather of Wilkin, Sharon, Alexis, Rodolfo, Rafyhel, Pablo Jr., Sharina, Raybert, Rafmelkis, Mayrene, Rafyhelkis, Irys L., Iris B., Charlene, Angie, Glendalis, Edgar Jr., Jose M., Bryant, Yerinet, Eduardo Jr., Jose L., Ivanna, Chelsie, Ruty, Edwin, Samir, Samira, Arelys, and Rhonalys and many great-grandchildren.
Pablo was an amazing father figure to his sons-in-law, and his daughters-in-law. To know him was to love him. Pablo was a God-fearing man. He was the definition of love, honor, respect, class, and happiness, amongst many other exemplary characteristics with an unforgettable smile. Great brother and friend. Pablo was an extraordinary human being. He will forever be missed and will live in our hearts forever.
Family and friends will be received on Friday, April 9, 2021 from 11am to 12pm, followed by funeral services at 12pm at the Iglesia de Dios Pentecostal M.L Vide de Fe, 1115 S. Main Rd., Vineland, where he was a member. Burial will follow at Siloam Cemetery, Vineland. Arrangements are by DeMarco-Luisi Funeral Home, 2755 S. Lincoln Ave., Vineland. Memories, thoughts and prayers may be extended to the family by visiting dlfuneral.com.
Psalm 121: 1 I lift up my eyes to the mountains— where does my help come from? 2 My help comes from the LORD, the Maker of heaven and earth. 3 He will not let your foot slip— he who watches over you will not slumber; 4 indeed, he who watches over Israel will neither slumber nor sleep. 5 The LORD watches over you— the LORD is your shade at your right hand; 6 the sun will not harm you by day, nor the moon by night. 7 The LORD will keep you from all harm— he will watch over your life; 8 the LORD will watch over your coming and going both now and forevermore.