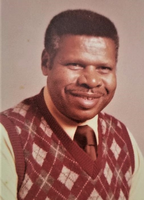 John Calvin Amos
JOHN C. AMOS, I
John Calvin Amos, I, 91, spread his angel wings and moved onto glory, on Sunday, April 11, 2021 at the New Jersey Veterans Memorial Home in Vineland, N.J. A popular and beloved resident, he was born on October 6, 1929, in Camden, New Jersey to the late Raymond Amos, Sr. and Esther (Coleman) Amos. John was the fourth child of eight siblings (four boys and four girls), predeceased by Raymond T. Jr. at birth, Raymond Amos (3rd), Freida Bentley, Lavinia Monk, (recently passed) Katherine Shepherd, and survived by his brother, Charles Amos, Sr. (sister-in-law, Patsie Amos), and sister, Nellie Davis.
John served in the United States Air Force during the Korean War, afterwards he attended West Virginia State College completing his education at Howard University in Washington, DC in 1961 graduating with a degree in Mathematics and a minor in Physics, from there he accepted a position with the United States Government National Institute of Standards Technology (NIST) as a Physicist. In his later years, he taught within the New Jersey Public School System, hearing God's calling, he earned a Master of Divinity degree in Philadelphia, PA, and served as a Pastor at St. Paul Union American Methodist Episcopal (UAME) Church in Swedesboro, N.J., and as an Assistant Minister at Mount Zion UAME Church in Berlin, N.J. prior to his residency at the VA Memorial Home.
In Philadelphia, he was introduced to Ella A. Earley, they married in 1960, from this union came two children, son Lt. Colonel John Calvin Amos, II, and daughter, Arevivia Renee' Amos, both shall continue to cherish his memory along with one lovely daughter-in-law, Lisa Michelle Amos, a devoted granddaughter, Meagan Elise Amos and a host of nieces, nephews, other relatives, loved ones, colleagues and friends.
John enjoyed bowling, he was exceptional in the game of chess, a baritone, he enjoyed singing in professional choirs, lending his voice in special concerts and charitable events. During his spare time he liked to tinker in re-structuring computers with one of his favorite nephews George Parker. John was a dutiful son, serving as a caregiver to both his parents in their later years.
A viewing will be held on Monday, April 19, 2021 from 2:00 pm to 2:45 pm followed by funeral services at 2:45 pm at DeMarco-Luisi Funeral Home, 2755 S. Lincoln Ave., Vineland, N.J. 08361 where associates, friends and family are welcome to come celebrate his life. If unable to attend but wish to extend thoughts and prayers to the family, you may do so on the Tribute Wall for John C. Amos at this website dlfuneral.com. The burial held at Brigadier General William C. Doyle Veterans Memorial Cemetery in Wrightstown, N.J. will be private and later. "Covid 19 mask restrictions apply for in-person attendance".