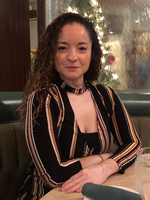 Carmen Trinidad
Carmen "Mimi" Trinidad was a beloved mother, daughter, sister, and friend. She left the world in peace on July 31st, 2021.
She was born to Alejandro and Carmen (Ayala) Trinidad on December 22nd, 1976. After high school, Carmen devoted her life to becoming a pillar of the community. She worked at the Vineland Public Library for 21 years, where she met many of the friends she has today.
In her spare time she volunteered on the Board of the Boys & Girls Club and at the local food bank.
She is survived by her daughter, Destiny who was her pride and joy.
In her spare time, Carmen loved to bake and garden. If you were lucky enough to know her you know that she was always your biggest champion and would encourage everyone she knew to achieve their dreams.
Family and friends will be received on Wednesday, August 4, 2021 from 11am to 12pm, followed by funeral services at 12pm at DeMarco-Luisi Funeral Home 2755 S. Lincoln Ave., Vineland. Burial will follow in Siloam Cemetery, Vineland. Face masks are required.