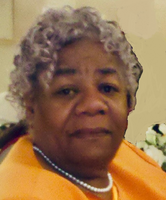 Mary E Shelton
Pastor Mary E. Russell-Shelton was born February 17, 1938 to Evelyn Davis and John Ray in Philadelphia, PA. She was affectionately called "Granny" and was educated in the Philadelphia Public School System. She had been declining in health for the last eight months. She departed this life on August 26, 2021 at Temple University Hospital in Philadelphia with her family by her side.
Mary was employed at the Vineland State School and Supervisor at Woodbine Developmental Center. She was also a family day care provider and a foster mother. Mary met and married Leonard L. Russell and from that union six children were born. She later married her devoted husband, Elder Caleb Shelton who was a loving stepfather to all her children: Bernard Fields, Vineland; Evelyn Russell, Vineland; Isabell Brooks (Robert), Columbus, GA; Wandella Douglas (William), Vineland; Derek Russell (Denise), Union, NJ; and Leonard Russell, Jr., Alloway, NJ. She enjoyed Thanksgiving, gathering with her family, and was delighted in the Word of God. She loved listening to Gospel music, watching old cowboy western shows, cooking shows, and she enjoyed watching the Dallas Cowboys and Eagles games with her deceased, beloved grandson, Isaac Lane, Jr.
Mary leaves to cherish her memory along with her children, fourteen grandchildren; 21 great grandchildren; six sisters: Brenda Scott (Richard), Laura Reaves, Stephanie Davis, Patricia Davis, Cynthia Reaves (C.L), and Barbara Brown (Gary); one brother, Wayne Davis (Gayle); one uncle, Arnold Clark; and brother-in-law Clayton Russell (Charlotte). She was predeceased by both parents; her husband, Elder Caleb Shelton; one grandson, Isaac Lane, Jr.; one sister, Celestine Barker; three brothers, Arnold Fields, William Davis, and Ronald Davis.
Relatives and friends will be received on Friday, September 3, 2021 from 10:00am until 11:00am at DeMarco-Luisi Funeral Home, 2755 S. Lincoln Avenue, Vineland. A funeral service will be held at 11:00am. Interment will follow in Siloam Cemetery, Vineland.