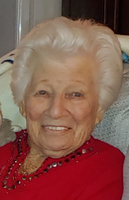 Molly Mays
Molly Mays, 95 of Buena and formerly of Delray Beach, FL, passed away suddenly September 5 th. She was born and raised in Vineland, NJ. She lived in Delray Beach, Florida for 20 years with her husband, Robert, returning to the area after his passing. She and her husband Robert owned and operated Tech Glass Company for 40 years prior to their retirement to Florida in 1999. Her greatest joy was spending time with her children and grandchildren.
She was predeceased by her beloved husband of 71 years, Robert; as well as her parents, Mary and Pasquale "Pat" Sabatino; and her brother, Innocenzo "John" Sabatino.
She is survived by her children, son Robert W. Mays (Joyce), son James P. Mays (Jeanne), and daughter Sherry Schwenger (Howard). She is also survived by her grandchildren, Jennifer Crowley (Robert), Jeffrey Mays (Sieglinde), Cheryl Richter (Scott), James Mays (Betty), Mark Mays, Robert Mays (Keri), Katie Mays, Marc Maguire (Laura) and Matthew Schwenger; as well as nine great grandchildren and many nieces and nephews; and her sisters, Antoinnette MacDade and Rosina Fimiani (Frank).
Relatives and friends will be received on Friday, September 10, 2021 from 10:00am until 11:00am at DeMarco-Luisi Funeral Home, 2755 S. Lincoln Ave., Vineland. A funeral service will follow at 11:00am. Interment will be held in Siloam Cemetery, Vineland.